TH
E SPICE OF LIFE

HARSH EARLY EXPERIENCES INSPIRED PROMOTER TO SHARE CULTURE.(Spotlight)




Rocky Mountain News (Denver, CO)

December 11, 2004 | Gonzalez, Erika

Byline: Erika Gonzalez, Rocky Mountain News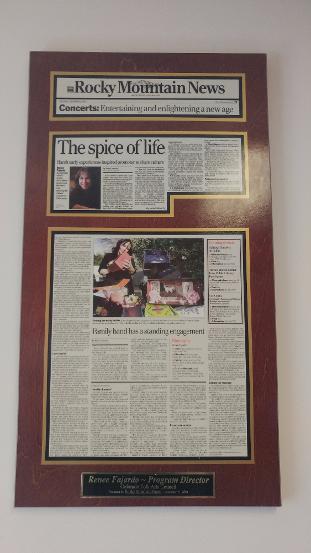 When Renee Fajardo was 8, she recalls, the kids who lived next door welcomed her to the neighborhood by burning her kittens. It was the little Hispanic girl's first year in an all-white enclave in Adams County. The first year she would be called "spic." The first year she would learn that her dark hair and olive skin made her a monster in the eyes of some children - someone who somehow deserved to find her cat's new litter of kittens burning in a backyard incinerator.
The incident forced Fajardo, her mother and younger brother to move. But the little girl never forgot how ignorance can breed such hate. "Once you have an experience like that, you have a responsibility to prevent it," she says. Forty years later, Fajardo is doing just that, educating a new generation of children about different cultures through entertainment.
For the past nine years, Fajardo has brought an array of artists to the Aurora Fox Fine Arts Center to entertain and educate school groups. The Cultural Concerts on Colfax - monthly noontime events - have featured performers as diverse as Irish Step dancers and African drummers. The programs are geared for children, but adults are also welcome.
"It's always been an enrichment program for the community," says Robert Salisbury, the Fox's executive director. "It's good for them to see and experience other cultures." Last month the series celebrated the festive Mexican holiday D'a de los Muertos, with performances by Aztec dancers and a bilingual storyteller. This month the event will feature Jewish songs and stories to highlight Hanukkah. Also on tap: programs honoring Martin Luther King and Asian culture.
The series is just one of several multicultural programs Fajardo has helped to launch:
* In Arvada, where she lives with her husband and seven children, Fajardo oversees the North Arvada Multi-Cultural After-School Program, which offers kids in Jefferson County Schools exposure to a variety of artists.
* In Westminster, she and writing partner Carl Ruby spawned a monthly cultural series that takes place in local libraries.
* Wheat Ridge now has a weekly, summer concert series thanks to Fajardo's efforts.
She's also expanded Aurora's offerings this year, adding a poet series at the city's Martin Luther King Public Library, a group of cultural concerts at the Community College of Aurora and a miniseries of school-based workshops. Because of her background, Fajardo makes a special effort to showcase Hispanic culture. She kicks off every season with D'a de los Muertos and ends with Cinco de Mayo. "I work very hard to bring back pride and culture to children who have Hispanic blood." Following her passion
Fajardo never imagined that her passion for the arts would become a profession. "You grow up and you don't think that artists, musicians, dancers or painters are very important people, unfortunately," Fajardo says. Following a more practical path, she became an lawyer to be a champion for other people. It was an occupational choice fueled, in part, by her experiences as a child. "I thought, well, this is a thing where I could have some power and make a difference and be successful," she explains.
Born in Denver, Fajardo spent much of her early years at her grandparents' Curtis Park home, a lively place often filled with the smell of warm tortillas and the sounds of old Mexican ballads. "I thought it was the coolest place in the world," she says. The neighborhoods where her family lived were rich in culture but high in crime, promptingFajardo's parents (who were divorced but shared custody of Fajardo and her younger brother) to move north. They landed in Adams County, a safer and more economically thriving environment, but much less diverse. "I think my parents thought they were doing the best thing for us,"says Fajardo, "but I was miserable."
The neighbors on Fajardo's new block couldn't help but notice the divorced Anglo mother and her ethnically mixed children. When Fajardo started being physically attacked by her classmates, her father enrolled her in karate classes. "I don't imagine that I was the only one being picked on. If kids aren't brought up with diversity and acceptance at a young age, when it's introduced to them it's going to cause problems," she says. It's a situation Fajardo encountered frequently as her family moved from suburb to suburb. When she was in middle school, her mother landed a job in Nebraska and relocated the family.
Grand Island was no more welcoming than many of the suburbs Fajardo had previously called home. But by the time she reached high school, she'd begun to find ways to fight the bigotry. She ran for and won a seat on the high school student council - the first Hispanic to do so. She also got involved at the local La Raza center, where she met artists.
Law a bad fit
A well-traveled classmate helped fuel Fajardo's desire to learn more and educate others about different cultures. The two started dating and married before their senior year, after Fajardo's mother had decided to move the family back to Denver's northern suburbs. "After years of struggling with absolute hatred and bigotry, by the time I was 17 I needed to be somewhere where I could surround myself with people who were more enlightened," Fajardosays of the life she'd created in Nebraska. Fajardo's parents worried that the marriage would prevent her from attending college. But she kept up her studies and won a full ride to Peru State College, a small school on the Missouri River Valley in southeastern Nebraska. "It was this racially mixed, multicultural little college," Fajardo says. "It was the first time I realized there was so much to America." Inspired by her experience, Fajardo won a scholarship to the University of Nebraska's law school. Though her first marriage ended while she was seeking a degree, she gave birth to her oldest daughter before finishing, managing to juggle both motherhood and classes.
After graduation, she moved back to Colorado. And so did Glen Anstine, a man she'd begun dating in law school. In 1985, the couple married. Within months of passing the bar exam, it was apparent to Fajardo that law wasn't her calling. Instead of practicing, she ran free seminars for renters and worked with couples to achieve amicable divorces. "It didn't really surprise me," says Anstine, a bankruptcy lawyer."After seeing her and seeing how the law worked, I didn't think it would be a good mix for her. She's much too active in other things to be a lawyer."
'I am the dreamer'
By 1990, Fajardo and Anstine had five children, including a set of twins (she had another set of twins eight years ago). At the same time, Fajardo immersed herself in the local arts and cultural community. When a group of artists found themselves in a contract dispute with Elitch Gardens in the early '90s, they called Fajardo. The feisty arts advocate settled the problem, securing gigs for all the performers involved. She soon found herself connecting artists with other venues. "They'll call me and ask if I can get them work, and I usually scrounge around and get them at least a little bit of money for something," she says. "It wasn't even like I sought it out. It just happened."
Fajardo realized she has a knack for helping these often-struggling performers. She compiled a guide to local multicultural entertainers that could be used by booking agents. She learned how to obtain grant funding. And she adopted an aggressive marketing approach to promote the groups. "I am the dreamer," she says. "I go to the grass-roots organizations and if they have a floundering program, I say, 'Here's what we can do to put together a killer program.' " In 1995, when the Cultural Concerts on Colfax series was created, Aurora's Hispanic population was beginning to boom. Looking for a way to offer cultural programming in their own backyard, Aurora city officials teamed with the Crossover Project, a nonprofit that specialized in supplying multicultural entertainment for after-school programs. Crossover's board recruitedFajardo to handle the project. "I think they heard that someone out there was an arts activist and she's a sucker and she will go in and help you for free," she says with a laugh. Even when the Crossover Project dissolved in 2000 because of funding problems, Fajardocontinued the Cultural Concerts on Colfax series. "It's totally her initiative," the Fox's Salisbury says of the series' longevity.
The budget for all the series Fajardo supports is minuscule - between $25,000 and $35,000. That allotment comes from Scientific and Cultural Facilities District funding, the Arvada City Council, the city of Aurora, the Jefferson Foundation and private corporations. Jeanette Trujillo, director of Ballet Folklorico de Fiesta Colorado, a Spanish and Mexican folk-dance troupe, says Fajardo not only provides the artists with exposure but offers a fair wage - unlike some organizations that expect performers to work cultural events for free. Fajardo says she pays performers anywhere from $100 to $1,500. "She's just made the community aware of so many artists," says Trujillo. "Without her, a lot of us would just fade away." Since she pours most of the money back into programming, Fajardo collects close to no salary. "I know if I didn't do this, it wouldn't get done," she says.
Perseverance pays
Fajardo coordinates all the programming from her home, a warm, inviting place where the walls are covered with art and family photos. That's also where she bases her writing career, which includes freelance pieces for La Voz and culturally oriented children's books (which she co-writes with Carl Ruby). The latest to hit the shelves is titled Chile Today, Hot Tamale. "I think, 'When did she have time to write this book?' " asks an admiring Trujillo. "That's just her pace, I guess." That energy has served Fajardo well. Her efforts to educate children about D'a de los Muertos date back a dozen years, when she approached Jefferson County School officials about marking the holiday with a celebration. "I had to have the kids sign waivers because people thought it was some sort of pagan, unholy ritual," says Fajardo. "It was very difficult and we couldn't do it, because a lot of people objected." But Fajardo's perseverance, as it often does, paid off. The district now offers programs on the holiday through several after-school clubs. "The kids want to know about the culture, and they want to be able to express their culture," says Amanda Pacheco, the Pomona High School Spanish teacher who sponsors its Hispanic club. "And the only way we've been able to do it to this extent is because Renee is great about getting us grant money and bringing artists to our school."
Getting the message
"Do you have your wallet?" asks Fajardo's oldest daughter, Asia, after discovering that her mother has forgotten to lock her car. Fajardo is at the Fox, busily preparing for the Day of the Dead performance. "My wallet?" responds a confused Fajardo, looking around for her purse, which is lying on the stage behind her. The scene only grows more chaotic when the performers arrive and Fajardo juggles directing them and providing instructions to a stage manager. But none of that behind-the-scenes confusion seems to affect the program. The 60 or so mostly Hispanic third- and fourth-graders who attend listen intently as storyteller Jerry Lawson shares a spooky tale, mixing Spanish and English to convey her message. And they need little prodding to join a troupe of Aztec dancers onstage, happily moving to the beat of a fierce drum. They leave with smiles on their faces and - Fajardo hopes - a bit prouder of where they came from. After all, as Fajardo observes from experience, "It's very hard for children to move forward if they don't know who they are."
Among her many duties, Renee Fajardo boxes up offerendas on the front lawn of her Arvada home to return to the students who made them for a Day of the Dead altar that was on exhibit at the Pirate art gallery in Denver. ELLEN JASKOL / ROCKY MOUNTAIN NEWS
COPYRIGHT 2008 Rocky Mountain News. All rights reserved. Reproduced with the permission of Dialog LLC by Gale Group. This material is published under license from the publisher through the Gale Group, Farmington Hills, Michigan. All inquiries regarding rights or concerns about this content should be directed toCustomer Service. For permission to reuse this article, contact Copyright Clearance Center.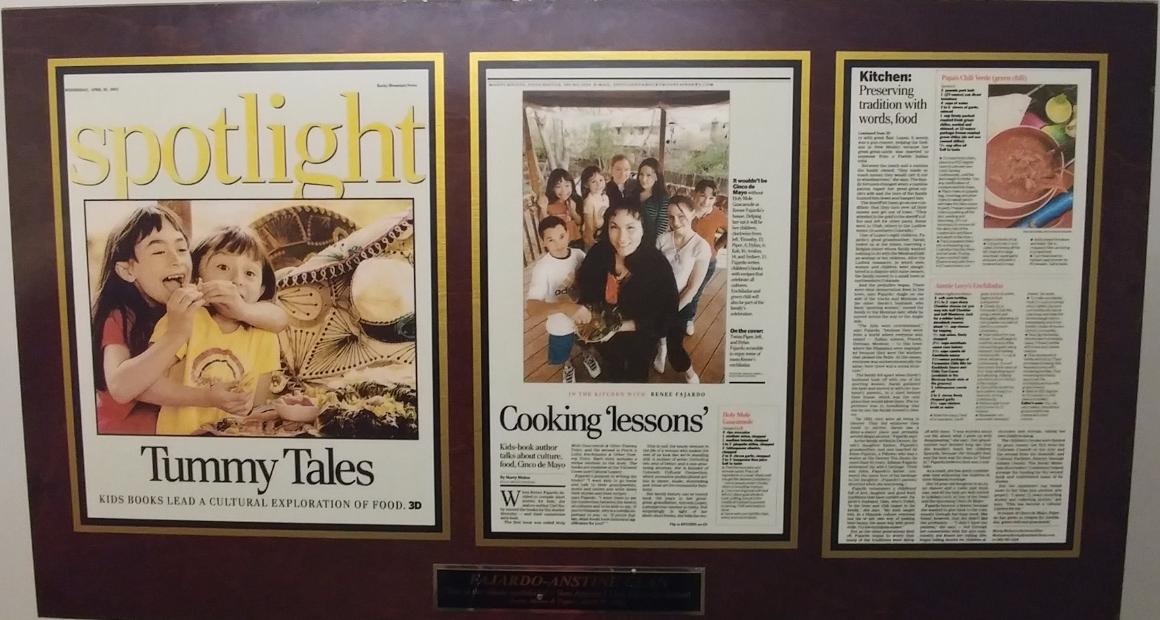 SOME HITS FROM MY TOP 10.(Food / Spotlight)
Rocky Mountain News (Denver, CO)
January 7, 2004 | Meitus, Marty
Byline: Marty Meitus, ROCKY MOUNTAIN NEWS
I hate articles that begin "If you're like most people," so let me phrase it differently: If you're like me, you probably have 10 dishes that you make for dinner over and over. (I read a statistic that said this is the norm.) Most of those 10 come down to what you can remember off the top of your head, what everyone will eat or what you can fix in five minutes, eat in three and still get the kid off to soccer practice. What are my 10? Well, I will tell you that I make a mean fried chicken. That's one. And the other nine, ummm, I'm thinking . . .
In any given year, I try dozens and dozens of recipes. Sometimes they become part of the rotation, but after a while, I forget about them and usually go back to the same old same-old. (OK, spaghetti and meat sauce - that's two. Maybe I was exaggerating about the 10.) This past year I added an enchilada casserole from children's-book author Renee Fajardo that I cleverly make with that precooked pot roast. I skip the step where you soften the tortillas in oil (although I do dip them in the enchilada sauce), and no one has complained yet. You can also sub flour tortillas for the corn. I also added a sesame chicken that I got from cooking teacher Mei Hamilton that takes about 15 minutes. I forgot about both of them until last week, when I was casting about for something to make. Hamilton's recipe received the ultimate compliment from my son, who said, "Of all the things you make, I think this one is my favorite."
Auntie Lucy's Enchiladas
Makes eight enchiladas
8 soft corn tortillas
1 1/2 to 2 cups sharp cheddar cheese (or you may mix half cheddar and half Monterey Jack for a milder taste), shredded; reserve about 1/2 cup for topping
1/2 cup onion, finely chopped
2 1/2 cups enchilada sauce (see below)
1 1/4 cups canola oil
Enchilada sauce:
1 1/2-ounce package of Fernandez Chile Mix for Enchilada Sauce and Chile Con Carne (available in the Mexican-foods aisle at the grocery)
3 tablespoons canola oil
2 to 3 cloves finely chopped garlic
2 1/2 cups chicken broth or water
* Make the sauce: Heat oil in saucepan. Saute garlic in hot oil until it begins to look transparent.
* Slowly stir in Fernandez Chile Mix, using a whisk and thoroughly saturating all chili-powder mix with oil until it's a smooth consistency.
* Heat mixture for one minute. You'll begin to smell the aroma of the chili and the garlic being released. Start adding chicken broth, 1/4 cup at a time, whisking continuously. You'll have a very thick sauce at first. Keep adding liquid and whisking, making sure there are no clumps in the mixture.
* Once all the broth has been added, bring to a slow boil, stirring continuously.
* Reduce heat to low and simmer for 15 minutes.
* Meanwhile, mix onions with shredded cheese. Set aside.
* To make enchiladas: Heat 1 1/4 cups of canola oil in a skillet. Dip each corn tortilla into hot oil (use tongs and keep the oil hot enough only to immediately warm the tortilla); shake off excess oil from corn tortilla.
* Next dip the tortilla into the warm enchilada sauce. Fill each tortilla with onion and cheese mixture.
* Start at one end of tortilla and roll up. Place enchilada in baking dish. Repeat process with remaining tortillas. Pour remaining enchilada sauce over the enchiladas and top with grated cheese.
* Bake at 300 degrees for 15 minutes or until cheese is melted.
* Editor's note: You can add cooked, shredded or ground beef to the cheese and onion mixture.
Nutritional information per serving: 537 cal., 50 g fat (9 g sat.), 30 mg chol., 16 g carb., 3 g fiber, 10 g pro.
Sesame Chicken
Serves four
1 pound chicken breast, cut into 1/2-inch cubes
4 to 6 tablespoons cornstarch
1 egg yolk, beaten with 1/4 teaspoon salt
White sesame seeds, to taste
Sauce:
2 tablespoons soy sauce
4 tablespoons sugar
2 tablespoons vinegar
4 tablespoons water
* Marinate chicken cubes with egg yolk and 1/4 teaspoon salt for about 15 minutes. Dust the chicken lightly with cornstarch. Shake off excess cornstarch. Add 3 tablespoons oil to a hot pan over high heat.
* Add the chicken and cook one side until golden brown, about 1 1/2 to 2 minutes. Turn the chicken over and cook the other side until done. Add oil as needed.
* Mix sauce ingredients and add sauce to pan. Stir until chicken is coated thoroughly with the sauce.
* Remove chicken onto a plate. Sprinkle sesame seeds on top. Serve over rice.
Nutritional information per serving: 304 cal., 6 g fat (2 g sat.), 150 mg chol., 23 g carb., 1 g fiber, 37 g pro.
COPYRIGHT 2008 Rocky Mountain News. All rights reserved. Reproduced with the permission of Dialog LLC by Gale Group. This material is published under license from the publisher through the Gale Group, Farmington Hills, Michigan. All inquiries regarding rights or concerns about this content should be directed toCustomer Service. For permission to reuse this article, contact Copyright Clearance Center.
Frijoles, Elotes, Y Chipotles, Oh My! New Book Blends Storytelling With Food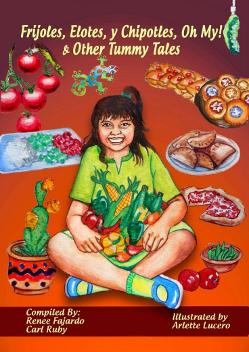 The book weaves multicultural stories together with recipes including collard greens, fruit noodle kugel and, of course, frijoles. It was compiled, in part, by Dr. Renee Fajardo, the Journey Through our Heritage coordinator at Metropolitan State University of Denver. Here's one of Fajardo's favorite recipe, her aunt's frijoles.
Tia Lucy's Frijoles
Tía Lucy isn't in this story, but her frijoles recipe is what Uncle Jake was making.
Here it is. Enjoy!
Ingredients
1 pound dried beans, any kind
Water
2-3 teaspoons salt, plus more to taste
5-6 whole garlic cloves
Instructions
1. Clean and sort the beans.
2. The night before you plan to cook (10-14 hours ahead of time), soak the beans to reduce cooking time.
3. Drain the soaked beans and transfer to a large cooking pot. Cover with water to at least 4 inches above the beans.
4. Bring the beans to a rolling boil. Reduce the heat to a medium simmer and let boil until there is only an inch of water left in pot.
5. Add boiling water to the pot as the beans reduce, until the water level is about 4 inches above the beans. Repeat until beans are tender.
6. After one hour, check beans for doneness. When done, add salt and garlic to taste.
Depending on their age, size, and variety, beans can take anywhere from an hour to three hours to cook through. This method of cooking will produce a rich, thick gravy that is wonderful to sop up with tortillas.
You can cool the beans in their cooking liquid and transfer them to refrigerator containers, still with their liquid. Beans will keep for one week refrigerated, or can be frozen for up to three months.
Colorado Public Radio: DEC 11, 2015
http://www.cpr.org/news/story/frijoles-elotes-y-chipotles-oh-my-new-book-blends-storytelling-food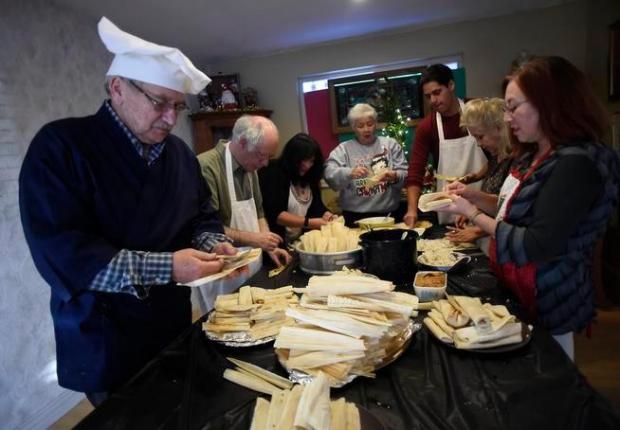 Christmas food traditions in Denver reflect international roots
PUBLISHED: December 21, 2015 at 11:50 am | UPDATED: June 6, 2016 at 1:15 pm
When Renee Fajardo was a kid growing up in Denver, there weren't many tamale factories — all she remembers is a taco cart on the 16th Street Mall.
"The guy had a monkey and an accordion, and I'd always beg my grandma and auntie to buy me some tamales. And they'd say, 'No, wait. Christmas is coming,' " she said.
In the Latino community, tamales became important for Christmas and New Year's meals, she said, "because you couldn't get them every day. You had to make an effort to go home and make them with your family."
Fajardo is one of the co-authors of the "Tummy Tales" books, a food heritage series that started in 1996. The latest book, "Frijoles, Elotes, y Chipotles, Oh My! and Other Tummy Tales" features many traditional holiday recipes from local authors who share treasured family recipes, from Czech to German to New Mexican.
Every holiday season, in kitchens across Colorado, families celebrate their heritage with a smorgasbord of the festive foods that include lebkuchengingerbread from Germany, springerle cookies from Switzerland, and meatballs from Sweden.
And those who celebrate the African-American holiday of Kwanzaa feast on a mix of soul food and West African specialities like chicken yassa, according to Adrian Miller, the Denver author of the James Beard award-winning "Soul Food: The Surprising Story of an American Cuisine, One Plate at a Time."
"Food is one of the easiest ways for immigrants to re-create home when they get to a new country," he said. "They try to have the same stuff they had in the old country."
The roots of Christmas, American-style, date back to some of the nation's earliest immigrants who, by the 1850s, had begun to fuse various Old World traditions.
The Christmas tree was originally a German custom, and Santa Claus dates to St. Nicholas, a fourth-century monk from Myra in what's now in modern Turkey — a saint famed for giving to the poor. His legend spread through Europe in the Middle Ages, and the Dutch, who called him Sinterklaas, imported him to America, where he became Santa Claus.
Christmas food traditions came the same way, spreading across America as generations of families kept their heritage alive. Sandra Maresh Doe, an English professor at MSU, celebrates every Christmas with memories of her grandfather, an immigrant from the former Czechoslovakia who worked as a doctor in Iowa City, which had a large Czech community.
"He would go out to the farms and tend to the old Bohemians, who sometimes paid him in chickens, ducks and blood sausage," she said.
Each Christmas, her mother made kolaces, pastries of raised dough filled with cherries, apricots or poppy seeds.
And Carl Ruby, a co-author of the "Tummy Tales" books, grew up with a traditional German Christmas, the son of parents who emigrated to America in 1929.
His mother made stollen, lebkuchen, crumb cakes called streuselkuchen, and spritzgebacken cookies.
"And my father made nusskugen, nut cake, with a recipe he brought from Germany and always kept in his head," said Ruby. "I make it now, too."
This year, chef Patrik Landberg celebrated his Swedish heritage atCharcoal restaurant with a Christmas feast that featured traditional Swedish meatballs, smoked salmon and pickled herring.
And Scandinavian-style Christmas shows up this year in such cookbooks as "Scandinavian Baking" by Danish chef Trine Hahnemann (Quadrille Publishing, $35) with a whole section on Christmas.
"Every year, I invite the children of friends and family to come to my house and spend a whole day baking," she writes, including her recipes for Finnish sugar cookies, Danish aebleskiver doughnuts and traditional vaniliekranse, or vanilla cookies.
Recipes for winter holidays in "Frijoles, Elotes, y Chipotles, Oh My!" include foods traditional to the New Year's celebration in the Geechee andGullah culture on the Sea Islands of Georgia — such as Hoppin' John with black-eyed peas, collard greens and corn bread.
It's part of the strong connection between soul food and New Year's Day, said Miller.
"People have an attitude if you don't have black-eyed peas, greens and corn bread on New Year's," he said. "With Christmas, there are fewer cultural imperatives. Every family and region does different things."
His family's Christmas food tradition was either turkey or prime rib with baked potatoes and always salad and vegetables.
"But the full display was dessert," he said. "That was our Christmas vibe."
Their spread included sweet potato pie, pistachio nut cake, a rum cake made with his grandmother's recipe — and red velvet cake, which he says has become a popular African-American Christmas tradition in recent decades.
And for Renee Fajardo, making Christmas tamales is always about connections.
"All the windows in the neighborhood were steamed up because the women were in the kitchen making tamales," she said.
Behind those steam-fogged windows, families gathered to cook.
"You can make tamales with just one person, but it's not as fun," she said. "You cook the meat together, make the chile together and the masa."
Gathered around the table, the family shared the assembly — smoothingmasa corn dough over a corn husk, adding a scoop of pork, then wrapping up the husk and putting it in the pile for steaming.
"It's a community endeavor that brings people together as a family," she said. "You sit around and talk to each other, and time slows down. It's almost like a meditation. You're doing the same thing over and over, and suddenly the big world is shut out, and you're in the little, tiny world of tamale making."
Colleen O'Connor: 303-954-1083, coconnor@denverpost.com or @coconnordp
Tamal Recipe
This recipe from "Frijoles, Elotes, y Chipotles, Oh My!" is from Nelson Moreno Avila, who grew up in Denver and shopped at El Mercado with his mom for the Christmas meal. The three chiles he uses can be found at grocery stores or Latin markets. Makes about 3 dozen.
Ingredients
FOR PORK

1½ pounds boneless pork
2 whole cloves garlic
½ teaspoon salt
½ teaspoon black pepper
For chile sauce
¼ pound Chile Nuevo Mexico
¼ pound Chile Guajillo
¼ pound Chile California
1 tablespoon garlic powder
1 tablespoon black pepper
2 cups water (stock saved from boiling the chiles)
1 tablespoon Crisco shortening
For masa
5 pounds masa (cornmeal flour)
⅛ cup water
1½ tablespoon baking powder
1 tablespoon salt
2 cups Crisco
2 ounces of the chile sauce
Tamale
3 dozen dried corn husks
Directions
Soak the dried husks in warm water for about an hour or so, or until they become soft. Drain the husks and let dry.
Place pork in a medium-size stock pot. Add the garlic, salt and pepper. Add cold water to cover the pork. On high heat, bring to a boil, then reduce heat to medium low and let it simmer partly covered for about 1½ to 2 hours. Remove pork from the stock and let it cool. Once cooled and cooked, begin shredding meat into fine threads.
To make the chile sauce, take a large saucepan and boil the Chile Nuevo Mexico, Chile Guajillo, and Chile California for 10 to 12 minutes or until softened.
Drain chiles and reserve the water. Rinse seeds out of the boiled chiles. Put chiles, garlic powder, and black pepper in a blender and blend until it becomes purée. Add the 2 cups of reserved water. In a heavy, large-size saucepan, heat 1 tablespoon Crisco over medium high heat. Add the drained chile purée.
Be careful when draining because it can get messy. Reduce the heat to low and cook over low heat for about 10 to 15 minutes. Once time is up, take sauce off the heat. Add all of the chile sauce to the pork mixture, except 2 ounces to be added to the masa.
To make the masa, place 5 pounds of masa in a large mixing bowl. Add water and baking powder evenly. Then add salt and begin mixing the masa using your hands.
Add the Crisco and 2 ounces of chile sauce to add color to masa. Knead the masa once more. It's ready when it starts feeling thick and compact. Then set it aside.
To assemble tamales, spread about 2 tablespoons of the masa mixture on each corn husk, lengthwise down the center. Then add a plop or two of the marinated pork to the center of the corn husk. Roll up the husk. If you want, you may secure with extra strips of cornhusk. Fold up the bottom end.
To steam tamales, use a stock pot with wire lining or steamer insert. Add enough water to keep it below the steamer. You can add some husks to the bottom to prevent the tamales from getting wet.
Tamales must be placed with the open side up along the inside of the stock pot, almost like forming rows of circles. Topping with a foil tent can help.
Steam until the husk peels away from the masa easily, which should be within an hour or so. To make the chile sauce, take a large saucepan and boil the Chile Nuevo Mexico, Chile Guajillo and Chile California for about 10 to 12 minutes or until softened.
Serve warm.
Kolaces
This recipe from "Frijoles, Elotes, y Chipotles, Oh My!" is a favorite of Sandra Doe, who got it from Irma Farrell of the Lodge Mile-Hi Czechs.
Ingredients
2 packages yeast
½ 2 cup sugar
¼ cup instant mashed potatoes
1 cup warm water
1 stick unsalted butter
1 stick margarine
1 cup cold water
1 teaspoon salt
2 eggs
6 cups flour (Hungarian High Altitude unbleached flour is the best if you are in Denver)
Jar of cherry or apricot jam for filling
Directions
In a large mixing bowl, dissolve yeast, sugar and instant potatoes in warm water, and stir. Melt butter and margarine in a 2-cup measuring cup. Add cold water. Stir and add to the mixture. Add salt and eggs; beat well.
Add 4 cups of flour and beat 2 or 3 minutes on medium speed. Change to dough hooks, add rest of flour and beat well. (You may need a little more flour; add it in ¼- cup increments. If you add too much, the dough gets hard.)
Scrape down the sides of bowl; beat again.The dough is ready when it breaks away from a spatula or wooden spoon. Put in a greased bowl, cover with a towel and put in a warm spot for 1 to 1½ to 2 hours.
You could also cover tightly with plastic wrap and put in the refrigerator for 4 hours or overnight. (Dough will keep for 3-4 days in the refrigerator.)
To make the kolaces, cut dough into walnut-size pieces and roll into a ball, then place on a greased cookie sheet. Cover with a towel. Let rise until bulk doubles, then punch down centers and brush edges with margarine. Cover and let rise again.
Form a well in the center and fill with cherry or apricot filling. Bake at 400 to 410 degrees for 8 to 12 minutes, depending on oven.
Remove to cooling rack and again brush with melted margarine.
Sweet Potato Pie
Adrian Miller likes this sweet potato pie for Christmas, with recipe adapted from "Southern Pies" by Nancie McDermott from Chronicle Books. Makes one 9-inch pie.
Ingredients
1½ cups mashed, cooked sweet potatoes (about 1½ pounds)
1¼ cups evaporated milk or half-and-half
1 cup sugar
2 eggs, beaten well
3 tablespoons butter, melted
1 teaspoon vanilla extract
½ teaspoon ground cinnamon
¼ teaspoon ground nutmeg
¼ teaspoon salt
1 store bought, single layer pie crust
Directions
To prepare the sweet potatoes, place 1½ pounds of whole, unpeeled sweet potatoes in a large pot with water to cover by 2 inches. Bring to a rolling boil over high heat. Reduce heat to maintain a gentle boil and cook until sweet potatoes are very tender. Depending on the size and shape, this will take between 15 to 30 minutes.
Drain sweet potatoes, and set them out on a platter until cool enough to handle. Peel sweet potatoes, mash them well, and measure out 1½ cups.
To make the pie, heat oven to 375 degrees. Combine sugar, cinnamon, nutmeg and salt in a large bowl. Use a fork or whisk to stir them together well.
Add the milk and eggs, and stir to mix everything together evenly. Add sweet potatoes, butter and vanilla. Mix them together well, stirring them into the egg mixture carefully, until you have a thick, smooth and evenly combined pie filling. Pour the filling into the pie shell and place it on the middle rack of the oven.
Bake for 50 to 55 minutes until the edges puff up and the center is fairly firm, wiggling only a little when you gently nudge the pan.
Place the pie on a cooling rack or on a folded kitchen towel and let cool for 30 minutes. Serve warm or at room temperature.
Little Spiced Apple Pies
These are inspired by traditional British mince pies, which aren't part of the Scandinavian Christmas tradition. Danish chef Trine Hahnemann lived in Britain for a while, then used mince spicing for small apple pies, as she writes in "Scandinavian Baking." Makes 20 pies.
Ingredients
For the pastry
⅞ cup powdered sugar, plus more to dust (optional)
2 ⅞ cups all-purpose flour, plus more to dust
Pinch of salt
1 cup butter, chopped and chilled
1 egg, lightly beaten, plus more to glaze
For the filling
14 ounces tart eating apples
½ cup superfine sugar
1 teaspoon ground cinnamon
¼ teaspoon ground cloves
½ teaspoon ground cardamom
½ teaspoon freshly ground black pepper
3½ teaspoon apple brandy
Directions
For the pastry, sift the powdered sugar, flour, and salt together, then mix in the butter, either in a food processor or by rubbing it in with your fingers, until it has the consistency of crumbs. Add the egg and mix the dough until it is firm and smooth. Wrap in plastic wrap and let it rest in the refrigerator for at least 1 hour, or overnight if more convenient.
Peel the apples, core them and cut into small cubes, then tip into a saucepan with the sugar and spices and simmer 10 minutes. Add the apple brandy and let it simmer 5 minutes more, then let cool.
When the apple mixture is cold and you are ready to bake, preheat the oven to 350 degrees.
Roll the dough out on a floured work surface to ⅛ to ⅓ inch thick, cut out 20 rounds with a 2¾- inch cookie cutter, and place them in two nonstick cupcake tins. Fill with the apple sauce.
Cut out 20 smaller pastry shapes, using a small round or star cutter, and place them on top of the apple sauce. Lightly press the rims together and brush the pastry with egg. Bake 15 to 20 minutes or until golden brown. Let cool on a wire rack and dust with powdered sugar to serve, if you like.
Almond Cookies
This dough is great when baking with children, because the cookies can be cut into all kinds of shapes, says Trine Hahnemann in "Scandinavian Baking." Makes 40.
Ingredients
1 cup superfine sugar
1 ⅔ cups all-purpose flour, sifted, plus more to dust
5 tablespoons ground almonds
⅞ cup cold butter, chopped
1 egg, lightly beaten
Directions
Mix the sugar, flour, and almonds in a bowl. Rub in the butter with your fingers until the mixture resembles crumbs. Work in the egg, again with your fingers, until you get an even dough, then wrap in plastic wrap and leave to rest in the refrigerator for 1 hour.
When ready to bake, preheat the oven to 400 degrees. Roll out the dough on a lightly floured work surface and cut out shapes with a cookie cutter. At this stage you can make a little hole in the top of each so they can be hung up later.
Place them on a baking sheet lined with parchment paper.
Bake 5 minutes, then let cool on a wire rack, repiercing the holes for hanging if necessary while the cookies are still warm (they may have closed up as they baked).
http://www.denverpost.com/2015/12/21/christmas-food-traditions-in-denver-reflect-international-roots/